Conecte con sus alumnos como nunca antes.
Desde la admisión escolar hasta el IEP (IEP=Programma Educativo Individuale), pasando por las aulas virtuales, las reuniones de padres y profesores y todo lo demás, los estudiantes de inglés como segunda lengua a menudo se quedan rezagados, ya que el idioma se presenta como un tremendo obstáculo. El miedo a no entender o a ser malinterpretado hace que los alumnos se impliquen menos, lo que obstaculiza su potencial académico. Según la Oficina del Censo de EE.UU., hoy en día se hablan más de 350 idiomas en los hogares estadounidenses. Nuestro objetivo es eliminar las barreras de comunicación y crear un entorno en el que el aprendizaje no dependa únicamente de la comprensión del idioma. Con Pocketalk, el diálogo auténtico puede tener lugar, liberando a nuestros estudiantes y empoderando a nuestros profesores.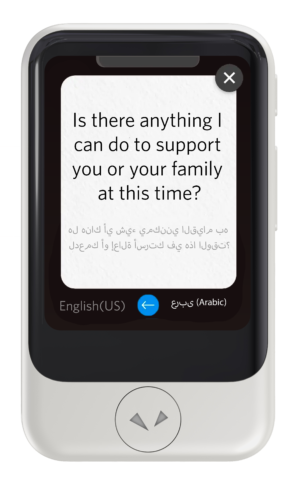 What our customers are saying
My Pocketalk was a lifesaver this last school year as I found out that I was teaching two newly arrived English Language Learner immigrant siblings, one of which only spoke Arabic. To make things even harder I used the device regularly in class, and the student often took it with her to other classes to improve communication there.
Ryan Miller, NY
Using Pocketalk has enabled me to communicate directly with my ELLs and their families. I feel empowered to communicate with them and do it in a meaningful way. This device has strengthened my relationships with students because they are able to see that I'm taking the steps to learn along with them!
Shana Faulkner, CO
Pocketalk has been a welcome addition to our school community! Teachers, our security guards, secretaries, counselors, our school nurse, and our parent liaison, are better able to communicate with our students and families. I was able to get six devices from a project that was funded on DonorsChoose. After I shared how Pocketalk worked with my supervisor, our Bilingual/ESL department is now looking into purchasing the devices for all schools with our language support programs. Vaccine records, transcripts, and other important documents are also easily translated. We are all so grateful for this technology, the assistance, and the engagement it gives to our multilingual learners and their families. Pocketalk, thank you for your support!
Dawn Kelley, NJ
Ventajas para los socios
La comunicación sigue estando en el punto central de las mentes de administradores, profesores, padres y alumnos. Pocketalk puede satisfacer las necesidades de todas estas partes a través de sus dispositivos que ofrecen traducciones rápidas y precisas tanto para las necesidades de comunicación como de aprendizaje de idiomas.
1 de cada 4 niños en las aulas de todo el país será estudiante ELL (ELL= Studente di lingua inglese) en 2025
Crear integración en el aula
Ahorrar tiempo y recursos sin necesidad de recurrir a un traductor externo ni de sacar a un profesor de ELL (ELL= Studente di lingua inglese) del aula.
Capacite tanto a estudiantes como a profesores y padres
Únase a la familia Pocketalk
Pocketalk ha cambiado la forma de comunicarse de empresas y organizaciones de todo Estados Unidos.
Anoka-Hennepin School District
Anoka, Minnesota
Byron Center Public Schools
Byron Center, MI
Woodbridge School District
Bridgeville, DE