Traduzione vocale bidirezionale
Pocketalk e un dispositivo di traduzione bidirezionale multisensoriale. Pocketalk utilizza i migliori motori di traduzione in tutto il mondo per offrire un'esperienza costantemente accurata in 82 lingue, tra cui dialetti localizzati e slang.
Touchscreen di grandi dimensioni
Microfoni con cancellazione del rumore
Telecamera per traduzione di testi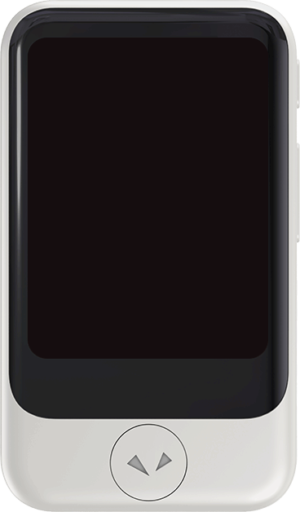 Traduzione di immagini con telecamera
La fotocamera Pocketalk scatta una foto e l'ampio touchscreen visualizza il testo tradotto direttamente sull'immagine. Pocketalk può fornire anche una traduzione audio per il testo tradotto dalla fotocamera.
Traduzioni di testi stampati
Traduzioni di scrittura a mano
Linguaggi
Pocketalk fornisce traduzioni per chi nella vita ha necessità di traduzione linguistica. Ogni dispositivo Pocketalk include la traduzione audio per 82 lingue e la traduzione visiva per 55 lingue tramite fotocamera.
Bilateral voice translation for 61 languages
Bilateral voice-to-text translation for 21 languages
Una traduzione direzionale da voce a testo per 37 lingue
Lingue Supportate
Fai pratica con la tua pronuncia
Seleziona una frase nella cronologia chat ed esercitati su Pocketalk. Regola la velocità e seleziona una funzione di rilettura più lenta per esercitarti.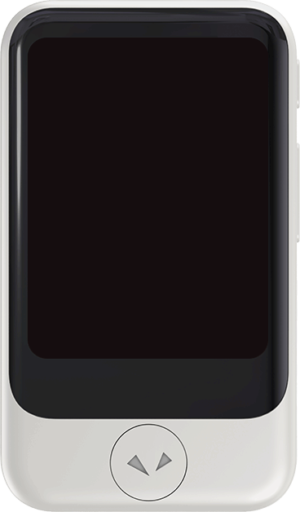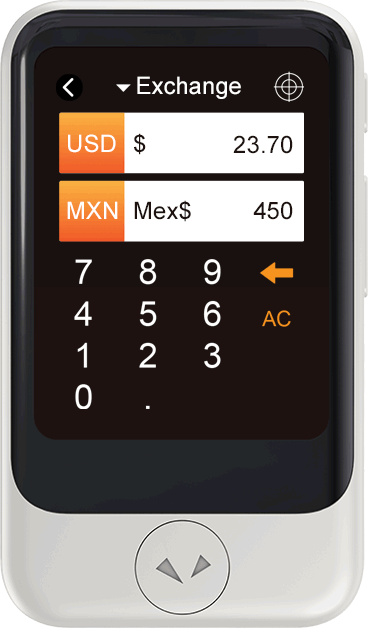 Rilevamento automatico della modalità di direzione della lingua
Enabling this feature on your Pocketalk takes the step of selecting language direction out of the equation, allowing for uninterrupted conversation. With this feature on, Pocketalk will now use AI to detect the language spoken and automatically adjust & correct the direction of the translation. Simply select your two languages and start talking!
Dati mobili integrati
Pocketalk ha una SIM integrata che viene fornita con un piano dati di due anni e offre un utilizzo illimitato dei dati in oltre 130 paesi. Inoltre, Pocketalk puo comunicare tramite Wi-Fi, hotspot personale o la propria carta SIM che puo essere inserita nello slot SIM.
Piano dati biennale incluso
Uso illimitato in 130 paesi
Slot per scheda SIM aggiuntivo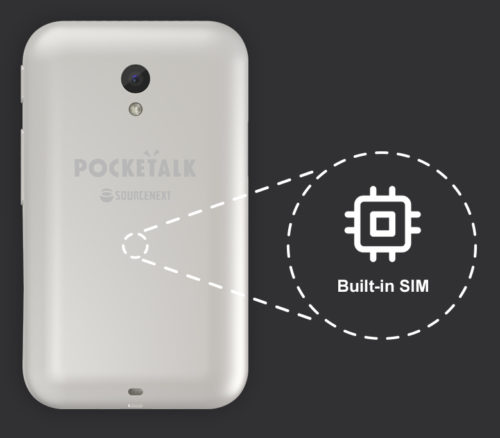 Processore
ARM Cortex 53 Quad-Core 1.3GHz
Sistema operativo
Sistema operativo personalizzato (basato su Android OS 8.1)
Display-Bildschirm
Pannello a sfioramento / 480x640 pixel
Fotocamera (per la traduzione di immagini)
8 milioni di pixel
Altoparlante
Due altoparlanti integrati (1,5 Watt)
Microfono
Doppi microfoni con cancellazione del rumore
Batteria
Batteria ricaricabile a ioni di litio (1200 mAh)
Tempo di traduzione continuo
4,5 ore
Tempo di standby
2,5 giorni
Tempo di ricarica
105 minuti
Carica della batteria
Tipo USB-C
Dati mobili
3G (W-CDMA) / 4G (FDD-LTE) / 4G (TD-LTE)
Slot scheda SIM
nano-SIM (solo Sourcenext R SIMS)
SIM incorporata
Disponibile solo nei modelli "eSIM" (piano dati)
Wi-Fi
802.11a/b/n/g, 2.4GHz/5GHz
Temperatura
0 ° C a 40 ° C
Dimensione
3.6" × 2.1" × 0.45"
Contenuto del pacchetto
Dispositivo POCKETALK, Manuale utente, cavo di ricarica USB Type-C (da Type-A a Type-A)